Einzelausstellung
in der Stadt- und Landesbibliothek Dortmund-Mengede
Rigwinstraße 32, 44359 Dortmund.
Eröffnung am Dienstag, den 27.02.2018 bis Freitag, den 23.03.2018.



Petra Ultsch
Art therapist, Educator and Artist
31.10.1966 born in Duisburg- Germany
Studies at the Brandenburg Art Academy in Schwerte
Individual and group lessons at the Russian artist Wladimir Kalistratow (School for creative development, Dortmund)
Implementation and organization of art projects
Regular study trips at home and abroad with the focus of photography
The yoga teacher training
The art therapist training
Employed as a teacher in a socio-therapeutic facility
---
My Philosophy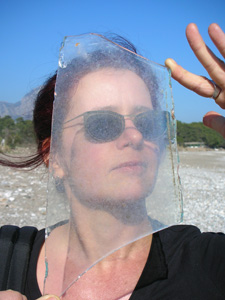 The search for ever-present new constellations and painterly methods of directing the colors into different forms is the focus of my artistic process. This results is an equal dialogue between the two.
My impressions, which I experience from the outer world, nature I transform into an artistic form of colors and lines. I select and liberate the secondary thing in order to formulate my inner view.
My emotional experiences are very diverse, so my pictures are as well. I play with the effect of colors, in their sound of brightness and darkness.
The dialog of colors, shape and surfaces is in the foreground. My work should not be an image of something, but essentially refer to oneself and thus tell itself out of itself.
The act of painting resembles a magical ritual.
---
Selection of individual and group exhibitions
2017 ARTisani Galerie in Fröndenberg-Frömmern
2016 Offene Ateliers in ganz Dortmund
2016 Artothek "Heimat" in Dortmund
2015 Gruppenausstellung im "Das Kunstbonbon" in Dortmund
2015 Ausstellung im "Das Kunstbonbon" Experiment in Form und Farbe
2015 Rathausgalerie Fröndenberg/Ruhr
2014 Art Kamen "Kunstmesse im Kreis Unna"
2014 Galerie balou in Dortmund
2014 Offene Ateliers in ganz Dortmund. Eröffnung: Atelier In Dortmund Sölde
2013 ART-isotope Galerie Schöber in Dortmund
2013 Atelierausstellung in Dortmund
2012 Galerie Fantom Berlin-Charlottenburg "Inmitten vieler Farben"
2012 Kulturquartier Hörde "Sehfest" Dortmund
2012 Offene Ateliers in ganz Dortmund
2012 Torhaus Rombergpark, Städtische Galerie "Pittoreske Heimlichkeiten"
2011 Kulturquartier Hörde "Sehfest" Dortmund
2010 Kulturquartier Hörde "Sehfest" in Dortmund
2010 Gruppenausstellung im Atelier am Beukenberg in Dortmund
2010 Galerieeröffnung im Atelier am Beukenberg in Dortmund
2009 Kulturquartier Hörde "Sehfest" in Dortmund
2009 Galerie balou "Laut und Leise" in Dortmund
2008 Atelierausstellung zur Werkschau in Dortmund
2007 Galerie im domicil in Dortmund
2006 Musik- und Kulturzentrum "Der Rest ist Stille" in Dortmund
2005 Depot in Dortmund
2005 Kunstausstellung im "Das Zentrum" in Dortmund
2003 Galerie im Stadewäldchen in Dortmund
1998 Gruppenausstellung im Atelier "K21" in Dortmund
1996 Musik-und Kulturzentrum "Von Innen nach Außen" in Dortmund
1986 -1990 Ausstellungen im "Forsthaus Fuchs", Galerie-Tierparkrestaurant, Praxis Dr. Djurek, Atelier S. Wloch in Bochum und Atelier B. Böhm in Holzminden
To the exhibition opening in the Town-House in Fröndenberg-Ruhr — 2015
To the exhibition opening in the Gatehouse Rombergpark in Dortmund — 2012
Petra Ultsch
Studio Rotpultsch
Am Kapellenufer 68
44289 Dortmund-Germany
Phone: 049231-28219599
Mobile: 049172-3650351
E-Mail: blick@rotpultsch.de